If you're coming to Queenstown, why not linger longer with one of our many accommodation-providers to really experience all the thrills and excitement this adrenalin capital has to offer. You have a fantastic choice of places to stay including motels, three to five star hotels, holiday homes, apartments and luxury lodges – not to mention numerous bed and breakfasts and backpacker lodges in awesome locations.
From your chosen home away-from-home, you will discover more things to do for a more memorable stay. Queenstown is not just about bungy-jumping from a gondola, a bridge or a ledge. You can take to the skies in a helicopter, plane or even a hot air balloon. Or try your hand at paragliding or hang gliding. Experience the thrills of rafting, river-boarding and canyoning. Then hop on board a jet boat and zip down a river or lake at frightening speeds!
If that's not enough, what about sailing, diving, horse trekking, quad or motorbike riding – or even a 4WD safari. There are so many things to do and places to stay in Queenstown, you'll never want to leave!
Now scroll down for the best selection of places to stay in Queenstown.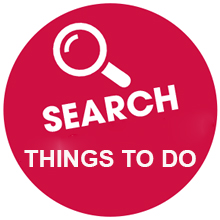 Ensure you have allowed enough nights to experience all that Queenstown has to offer with a host of activities, cruises and things to do to suit everyone "Click Here"