To experience all that Kaikoura has to offer, and that's a lot, you have a good choice of places to stay.
In the heart of town are plenty of beachfront apartments, motels and B&Bs. Further afield, you will discover beachfront motels, B&Bs, backpacker hostels and lodges lining the state highway to the north and south of the town. Wherever you stay, Kaikoura will give you a warm welcome and plenty to see and do.
It may be small but Kaikoura punches way above its size as one of the top marine life centres of New Zealand. World famous for its breath-taking whale-watching tours, Kaikoura offers you close-up views of the magnificent sperm whale, as well as dolphins, seals and an impressive range of pelagic bird life – hopefully including encounters with the majestic albatross. Kaikoura is also renowned for its great seafood, especially crayfish, caught along its rugged coast which is accessible by foot, boat, or kayak. There are tour operators aplenty in Kaikoura. Not just by boat, but helicopter and plane flights as well as land-based tours.
Now scroll down for the best selection of places to stay in Kaikoura.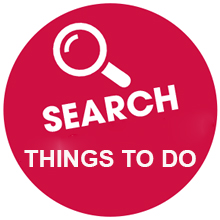 Ensure you have allowed enough nights to experience all that Kaikoura has to offer with a host of activities from Whale Watching, Dolphin and Seal swim and many other things to do on land or water to suit everyone "Click Here"